Tregear Presbyterian Preschool put on a fantastic event in celebration of NAIDOC week 2022.
NAIDOC Week celebrates the history, culture and achievements of Aboriginal and Torres Strait Islander peoples. NAIDOC Week is a great opportunity to learn more about Aboriginal and Torres Strait Islander communities.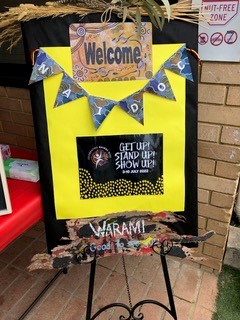 Guest speaker, Rev. Michael Duckett, who is the charman of the Sydney Anglican Indigenous People's Ministry Committee, talked about the theme for this year's NAIDOC celebration which is " Get Up, Stand Up and Show Up".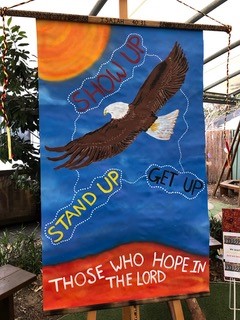 He showed us his painting illustrating the theme. He chose the verse Isaiah 40:31 which shows our strength when our hope is in God.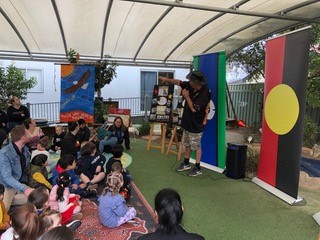 Michael went on to tell us the stories of two Indigenous Christian leaders who placed their hope in the Lord in spite of the challenges they went through. The two Indigenous leaders were David Unaipon and you may know his image from the $50 note. In his travels, he was not allowed to stay in hotels as the law during the time did not allow Aboriginal people such service. [Read more about David Unaipon HERE]. The other man was William Cooper, a Yorta Yorta man, who fought for justice for Indigenous people. [Read more about William Cooper HERE]. According to Michael, these two men kept getting up, standing up and showing up because they were compelled by the love of God. 
Since NAIDOC is a time to celebrate the rich history, culture and achievements of Aboriginal and Torres Strait Islander people, we took this opportunity to celebrate our very own Indigenous educators ( Edward and Emma) and our 2 Indigenous volunteers Aunty Kaylene Manton and Uncle Leon Turvey, who have been instrumental in teaching our children and staff about their culture. We made a profile wall for each of them – celebrating their great contributions at the preschool as well as in the local community.
Overall, it was an amazing celebration. We had many different activities that the children and their families can engage in such as jewellery making, face painting, temporary indigenous tattoo, rock painting, aussie animal decorating, aboriginal  paintings and artefacts. We also had a visit from Rooby Roo, the reading Kangaroo who gave out books to children in Darug language.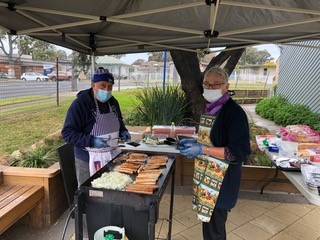 Please join us in giving thanks to God: 
For this opportunity to connect, learn and celebrate our amazing Indigenous culture. 
For the wonderful staff at Tregear Presbyterian Preschool who put so much effort into nurturing the children, families and the community. 
For the opportunity that Rev. Duckett had to share the message of hope found in God.