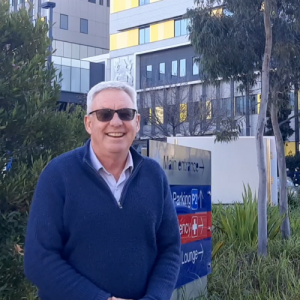 Hospital Chaplaincy: Walking with people in the hard times
By Keith Walker – Chaplain at Royal North Shore Hospital
Originally published in The Presbyterian Pulse Magazine (Dec 2015)
It's unusual for a Chaplain (or any Minister) to be in a Delivery Room with a family. I'd received a call from the Social Worker that the family requested I be there. It was Monday and the week was off and running well and truly. 
I arrived and met the couple and the mother of the woman giving birth. Little did I know that the couple had gone home Friday, knowing that they would never enjoy the daughter that they had been expecting.
Here I was, the Chaplain, and here they were, waiting the birth of the still born child they would never really know. I met the couple briefly, sat down to talk with the mother who had raced to her daughter's side from her country of birth. Everyone was shell-shocked, shattered for the loss.
Later that night the daughter was born, baby Faith.* The next day I was back together with the family and we were doing a remembrance/thanksgiving Service for baby Faith, the couple, the mother of the father's parents. We cried, read the Scriptures, gave thanks and prayed.
Once the Coroner had done his work, the family asked me to do their funeral. We held it in the Hospital Chapel, a small gathering, some staff , midwives and Manager. The father of the mother 'Skyped' in and was able to be in the service. Again we wept, remembered, they expressed their loss, I read the Scriptures and talked about Jesus.
Since then I've met them three more times and I pray they find comfort in the Lord who is able to provide the comfort that they seek and pray that they may find "faith" in the Lord of life and death, Jesus Christ.
*Real names withheld