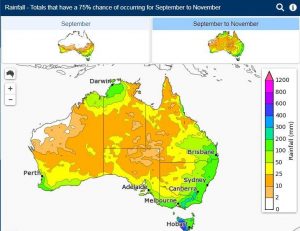 Dear friends,
Will you pray and give thanks for God sustaining Parkes & Temora?
As Craig Bland explains, "In Parkes there is still the possibility of total crop failure, however at this point, we are getting 'just' enough for the crops to keep ticking over. It's literally "give us this day our daily rain". For the last few weeks we've been getting 5-10mm each week – which is nothing really, but it's keeping the crops alive for another week. We would LOVE to see a few inches of rain so that the pressure was off, but we can survive on 5-10mm a week so long as it comes every week. So it's an exercise in trust and faith at the moment. In our congregation most farmers have either sold off excess stock or have no stock (crops only) so again, the feeding isn't so much of an issue. There are places West and North where farmers have now spent more in feeding stock than the stock are worth, so it's getting closer to crunch time of having to sell for little return and make huge losses or put stock down. These are the people in the most dire need and who are most at risk of depression or finding there is nothing to continue for." Parkes got another 10mm last Thursday night and had combined churches prayer meeting (to pray for rain) in both Forbes and Parkes last Sunday.
Farmers to the West and North of Parkes have already had a total crop failure due to lack of rain at the right time. That means that they have lost all that seed and have no feed for stock. Many have had to borrow money to keep going. This impacts the whole community, not just the farming families.
Derek Yu says, "Temora is in a better situation relative to the rest of the state. Temora has received better rainfall than most of regional NSW, although we haven't received that much. And so the farmers I am in contact with have been talking about how thankful they are for the area we're in. We had 10 mls on a couple of weeks ago and we're expecting some more. Some places aren't getting anything. In a couple weeks' time, with the weather warming up, if it doesn't rain, things will get worse very quickly. But for the time being, farmers tell me that Temora is going well.
Our town is preparing for the worst though. The council is going to hold a forum to discuss the drought, and the combined Christian leaders are thinking about how we can be assisting farmers and the community. But we are not in that dire situation yet which I know many around NSW are currently in, where they haven't even had a crop from the seed sown. There are some families that are really struggling. We're doing our best to support them. Last Thursday, there was a thunderstorm and parts of our town got 25 mm."
For your prayers:
Thank God for his mercy in providing just enough rain in the Parkes and Temora areas
Pray that the rain continues and becomes more bountiful, and that crops would not fail
Pray for families who are finding it difficult financially and emotionally
Pray for individuals who are finding it hard to keep going, that they would have support around them and that they may turn to God for comfort
Pray for Craig, Derek and others who provide care and comfort to people in these areas, and pray that they would have the opportunity to speak of God's faithfulness
Pray for the areas West and North of Parkes, that they would receive rain
Kind regards,
Liz McClean