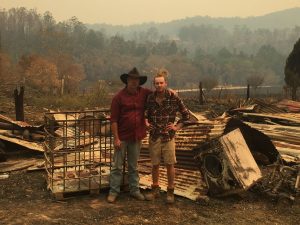 Dear friends,
Paul lost everything in the fires at Bobin, apart from his double garage. He and his son now live there.
Thanks to the funds donated to Jericho Road, the local church was able to go to Bunnings with Paul and buy a gas cooker, a hot water system, chairs, a table and other bits and bobs to make life a little easier…..which not only Paul and his son can use, but their neighbours can too. As they went through the check out at Bunnings, the local store generously charged only $5 for the gas cooker, which was normally priced at $600.
Donated funds have also been used to purchase water for tanks drained fighting fires, so that people have fresh drinking water, water for stock and water to continue to defend their homes. Jericho Road will continue to provide support through our local churches to those affected by fires as we are able.
Please keep Paul and his son in your prayers over the coming weeks and months.
Kind regards,
Liz McClean
CEO, Jericho Road