The Power in Praising God.
Charles Spurgeon. New Kensington, PA: Whitaker House, 1998.
In a bid to discover more about the benefits of thankfulness, I turned to the ninetieth century English evangelist, Charles Spurgeon, and his book, "The Power in Praising God".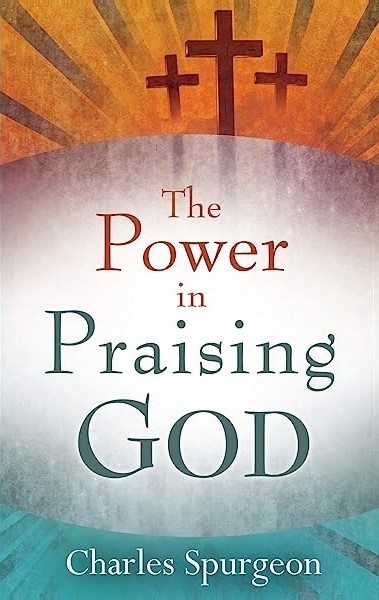 Spurgeon does indeed answer the question I've been asking about the benefits of thankfulness in chapter 3. He does this by considers the examples of David and Paul and recognises that prayer is often combined with praise. Before discussing the benefits of combining prayer with praise, he first addresses the perils of prayer without praise. This may seem strange to suggest that prayer can be perilous when so much time and effort is given to encouraging people to pray. Yet, the perils of prayer without praise need to be taken seriously. These include ingratitude, selfishness, lack of faith, wilful disobedience, discord with God's will, and powerlessness – ineffective prayer.
However, combining prayer with praise produces peace (as opposed to anxiety), enables further prayer, and glorifies God. Reflecting on Spurgeon's words, other benefits can include contentment, other-centredness, humility, resilient faith, wilful obedience, and delight in God. It's not incidental that when Jesus taught his disciples to pray, he started with praise (Matt 6:9 [Luke 11:2]).
Throughout the rest of the book, Spurgeon reveals that praise is not mere utterances of thanks for things that we regard as valuable. Praising God involves all our being – our emotions, actions, words, and the willingness to submit to him. This includes our affections, remembering his mercies and forgiveness, singing to him, our thoughts and knowledge, being astonished by God, our vulnerabilities, our hopes, our uniqueness, and our possessions. Above all, our praise must be sincere.
When the theological basis for praise is taken into consideration, praise becomes an integral part of the Christian life. The character of God lays behind his acts of love – his choosing of his people, enabling by the Holy Spirit and redemption by the blood of Jesus. Therefore, God ought to be praised for who he is and not just who he is.
God, then, is worthy of all praise. Therefore, Spurgeon recognises that irreverence is inexcusable. This irreverence is expressed through a number of ways including neglecting his word, not understanding one's responsibility in honouring God. So, thankfulness also involves discipline in being devoted and obedient to God.
Finally, Spurgeon exposits 2 Chronicles 20 as an example of praising God in an hour of need. This is what Israel is. This involved remembering God's faithfulness, relying on his promises, and admitting their weakness. As a result, their fears were allayed as they heard God's word, they relied on his promises and worshipped him even though they were yet to be saved, and they started to sing and practiced obedience. As a result, they took the spoils of war, sung about how God saved them and were able to rest because their enemies were afraid.
Spurgeon has addressed the issue of thankfulness in a way that very few more recent authors have. Not only has Spurgeon shown that thankfulness and praise of God are fundamental to the Christian life, but they are integral to it. Throughout the book Spurgeon seems to repeat himself in addressing issues that have already been addressed. However, like any good evangelist, his approach is to raise issues then unpack them more fully later. In this, Spurgeon shows that thankfulness must permeate every aspect of the Christian life. The subject of praise is so extensive no part of the Christian life should be considered separate to it. Believers would do well to reflect on Spurgeon's insights and consider how they can increase their thankfulness and how they can express it and give praise to God.